Little water quality data exists that can inform the safety of recreating on the highly urbanized Lower Raritan River. The Lower Raritan is actively used for fishing, paddling, catching bait fish, crabbing, jet skiing, wading and even swimming on a hot day, yet limited information is available for pathogen levels that have a direct effect on human health.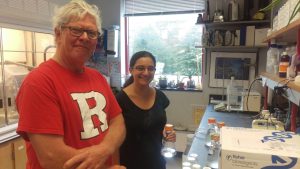 In 2019, Rutgers Cooperative Extension of Middlesex County, the Lower Raritan Watershed Partnership (LRWP), and Rutgers, Department of Ecology, Evolution, and Natural Resources partnered with community volunteers to collect weekly pathogen samples for 20 weeks at six public access sites along the tidal portions of the Raritan River. The sites are not regularly monitored by the state and include non-bathing beaches, kayak/canoe launches and fishing docks. The results were immediately made available to the public through the LRWP's website and the New York City Water Trail Association's Citizen's Water Quality Testing Program so the community could make informed decisions about the safety of recreating on the water.
The Interstate Environmental Commission provided lab services as well as quality assurance/quality control oversight through an EPA approved quality assurance project plan, training, and YSI monitoring sondes.
Pathogen sampling included Enterococci bacteria via grab samples which indicates possible contamination by fecal waste. Other in-situ parameters collected including dissolve oxygen, temperature, salinity, and pH using a YSI sonde.
Pathogen monitoring results showed that each site had at least 9 exceedances above the state standard of 104 cfu/100ml. The site with the most exceedances was Riverside Park, Piscataway (95% of sampling events, n=22), and South Amboy Waterfront Park had the least (41% of sampling events, (n=22). These results are preliminary and awaiting quality control.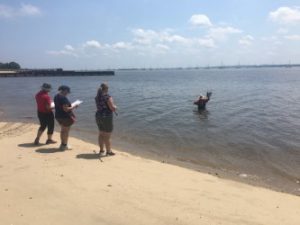 Enterococci are usually not considered harmful to humans, but their presence in the environment may indicate that other disease-causing agents such as viruses, bacteria, and protozoa could also be present. These human pathogens can causes gastrointestinal issues or skin/eye infections.
Next steps are to work with volunteers to conduct annual pathogen monitoring as well as microbial source trackdown to determine pathogen sources. The results have been presented at a number of stakeholder forums and will be presented at the National Association of Natural Resources Extension Professionals annual conference in May, 2020.
Michele Bakacs presented preliminary findings on this mini-grant at the November 11, 2019 Rutgers Raritan River Consortium (R3C) Fall Networking and Research Breakfast.  View presentation here.
For more information contact Michele Bakacs, Associate Professor/County Agent with the Department of Agriculture and Natural Resources at  bakacs@njaes.rutgers.edu or (732) 398-5274.  This project received support from a 2019 Rutgers Raritan River Consortium mini-grant.